Gone Clubbin'
This article on the Pottery Club of Aspen's annual Holiday Pottery Sale was first printed in the Aspen Daily News. The event runs from Dec. 11-13 at CMC in Aspen. Numerous CMC faculty and students take part.
Two Dozen Potters Find a Common Interest, and Put it On Sale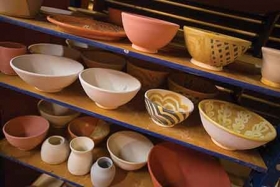 We've got ski clubs and equestrian clubs. There are mushroom-hunting clubs and broomball clubs, running clubs and book clubs. The Roaring Fork Valley is home to hundreds of groups of people who get together and bond over a shared interest.
Most of them don't get their time in the spotlight, but for the Pottery Club of Aspen, this is their chance to shine. Every holiday season, the nearly 25 members of the group put their products on sale at Aspen's Colorado Mountain College  annual pottery sale.
But, the sale is not just a sale, say members, and the group is not just a group.
"It's so much more than just a studio," says Emily Lanese, a potter who's taken classes at CMC for eight years. "In it we have people who have millions of dollars and teachers and preschool teachers, we have raft guides and a retired electrician."
All of these members — many of whom got their start in ceramics through a class at CMC — create wares and sculpture throughout the year, and then seize the opportunity to sell it at the year-end event. Each student puts several dozen items on sale, from bowls and mugs to larger sculptures, so the result can be thousands of pieces from which to choose.
Anne Goldberg, a professional potter and adjunct faculty member in ceramics at CMC, says that the diversity in offerings is one of the best parts.
"Students can see the varied work that faculty members make and see what other students are making," she says.
This year, she's contributing nearly 100 pieces, most of which fall in the porcelain tumbler family.
Besides providing works to sell, every pottery club member must help with putting on the event. That includes everything from public relations and logistics to figuring out how to price and display their work.
"A lot of people have no experience in relation to selling their art," says Goldberg. "So from an instructor point of view, it's a practical application on how to market themselves."
That can be valuable for fledgling artists aiming to take the leap between amateur and professional.
"It makes them be more critical of their own work," says K Rhynus Cesark, who also is an adjunct faculty member in ceramics at CMC, and has several pieces featured in the holiday show. "They have to figure out what they want to put in and what they don't, so there's some editing."
Both instructors agree the experiential learning part of the process can't be taught in a classroom, but the benefits exist for more than the students. Twenty-five percent of the proceeds from each piece sold goes back to the pottery club, and the funds are used to support the organization, along with purchases that are donated back to CMC and some of the college's programs, giving the whole event a philanthropic side.
"I love the community that we've developed here and the friendships," says Lanese. "It's really a vast variety of people, and we all learn from each other. I create a lot more pieces in the fall in getting ready for this show … but for me the joy is in making it and being with all the people at the studio."
This is the one time each year that she puts her ceramics on display and sells them. So, it's an added bonus, but not a necessity to sell. For others, like Goldberg and Cesark who are professional potters, they depend more on the money they'll make.
"I usually buy a few things too," says Goldberg. "Especially the students' work is really wonderful and they try a lot of different things. As a professional artist, it's great to see their curiosity and be inspired."
Mentors support students, and students support other students — who are sometimes also friends. The newcomers then inspire the instructors and the whole process becomes a celebrated community cycle. And isn't that what clubs are all about? 
Holiday Pottery Sale
Presented by Pottery Club of Aspen
Opening reception:
Dec. 11, 5-7:30 p.m.
Sale: Dec. 12 & 13, 10 a.m. to 7 p.m.
Colorado Mountain College — Aspen
255 Sage Way,
Aspen Airport Business Center
– See more at: http://enews.coloradomtn.edu/2014/12/10/18834/#more-18834